This spring, the sun playing between the timid, the thermostat makes the yoyo and rain that thinks it's a star, you do not know how you dress. Result? You still have not given up your big winter parka … To avoid dying of heat, we deliver you our top jackets perfect for this mid-season (capricious) and reveals our fashion tips to bear depending on your body type and riding style.
4 Jackets tend to adopt this spring
1-The bomber
Straight out of the nineties and menswear, the bomber is the key part of this spring / summer 2016. And it is also proud he does fine on the back of all the bloggers mode. Black, khaki, with Japanese prints or even pink as that of @blondiiebaby , you will necessarily find the bomber of your dreams …
2-Perfect Le
Shoulder bikers, those of Marlon Brando and icons of rock, the hoodie coat has become a staple of your wardrobe. So if like @dressingleeloo , you want to wake up the rebel in you, you amourachez of this "hard leather" … Want to look a vitamin? Do not be afraid to choose the color, yellow gun this season!
3-The fluid trench
Under its minimalist airs, the trench fluid is the essential piece when the rain rears his nose. Lightweight and waterproof, it will protect you dripping with elegance while saving you the hot shot. As @emilie_tla , tell him yes!
4-Denim jacket
Again this season, the watchword is Denim Forever! So as @pogo_artistique , leave without hesitation your timeless denim jacket from the closet. Here is one that will accompany you until next winter!
You are small and petite
Say bye bye to jackets that skim the carpet and go for short jackets. Indeed, long coats will only effect to drown your figure and accentuate your small. Exit the fluid trench unless it arrives above the knees. What jackets will fill you value? Between denim jacket, the perfecto or even the bomber, you're spoiled for choice!
You are tall and thin
You and your dream body, you can afford. But if you still want to enhance your silhouette, you are advised to choose the fluid trench. Want to break the large effect twig? Prefer the bomber. Its "inflated" give some volume to your look.
You are luscious
To highlight your curves, choose a black perfecto! Its slim size will effectively highlight your beautiful forms while refining them. SO sexy! If you are tall, the fluid trench, you will also like a glove. Last tip: If you have marked the size, feel free to surround your jackets!
What style jacket for what?
The sporty chic look with a bulge
You are sports (especially in front of your TV)? Adopt without further delay the sporty chic look of @hiloalohablog . The beautiful is all about a bomber Japanese tunes, white sneakers with soles wicker (so trendy this summer) and white pants. In short, the perfect look for walking the aisles of Roland Garros soon
The glam rock look with a perfecto
If like @marieandmood , you rock, ultra-feminine and bohemian, then adopt the glam rock look. Good tip? Associate a lace blouse with a black leather perfecto. Perfect for going to the festival!
The Liberty look with a denim jacket
Looking for a light, fresh look for spring / summer 2016? Do not search anymore! The Liberty look is THE ONLY ONE. Your mission should you accept it: putting on a skirt dotted with flowers, sneakers and a denim jacket. You're ready to chill in the sun ?
The casual chic look with a fluid trench
Like the chic outfits but remain whole day perched on heels, very little for you? What about trying the casual look chic? It subtly combines comfort and elegance with its fluid trench. The perfect outfit for going to the office without taking the head!
Gallery
Fashion: College look trends
Source: www.flickr.com
Kapital Clothing Fall Winter 2015 Collection
Source: long-john.nl
Tweed Bouclé Jacket
Source: mystylefest.wordpress.com
Kapital Clothing Fall Winter 2015 Collection
Source: long-john.nl
The wackiest trends from Men's Fashion Week in New York …
Source: www.dailymail.co.uk
Women jackets spring-summer 2016
Source: dress-trends.com
Spring Jackets for Ladies, Blazers for Women on Sale
Source: www.jacketsociety.com
Sleeveless Jackets at Spring 2013 Fashion Week: Trend …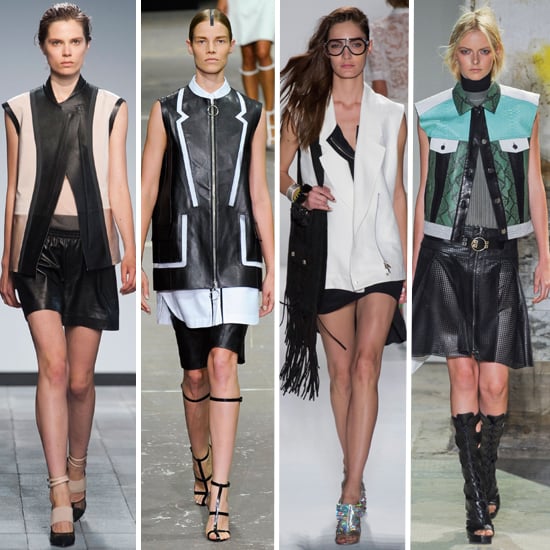 Source: www.popsugar.com
Spring Jackets for Ladies, Blazers for Women on Sale
Source: www.jacketsociety.com
Spring Jackets for Ladies, Blazers for Women on Sale
Source: www.jacketsociety.com
Spring Summer 2017 Trends Already In Your Wardrobe …
Source: stylefrizz.com
Spring/ Summer 2017 Fashion Trends
Source: www.fashionisers.com
Top 10 Spring 2014 Fashion Trends.
Source: www.becomegorgeous.com
20 Fashionable Spring Jacket Trends For Girls & Women 2017 …
Source: modernfashionblog.com
Spring 2015 Trend Alert Printed Jackets
Source: www.jacketsociety.com
3 of My Favorite Spring Fashion Trends » AleanElston.com
Source: aleanelston.com
20 Fashionable Spring Jacket Trends For Girls & Women 2017 …
Source: modernfashionblog.com
20 Fashionable Spring Jacket Trends For Girls & Women 2017 …
Source: modernfashionblog.com
Fashion Fads to Update Your Style Dictionary
Source: makeupandbeauty.com
Spring-Summer Trends: Wrap and Blanket Style Coats For …
Source: wardrobelooks.com